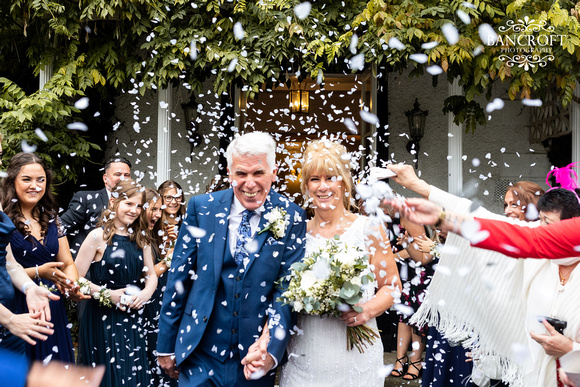 Here are the blog images from Lenny & Karen's Fabulous Wedding at Statham Lodge. You are welcome to download the images from the gallery (see link at the bottom) however I respectfully ask that, in line with copyright restrictions, that you DO NOT crop out my logo or apply editing filters or edit the images in any way. Please feel free to share the images on social media, all I ask is that if you Like what you see, please credit/tag '@BancroftPhotography' when you post, and please leave me a little GOOGLE REVIEW, it helps other couples like you, find me.

Lenny & Karen are the loveliest couple, not everybody is lucky to find love again, so when these two fell head over heels, they knew they had to be together. They deserve so much happiness and its clear to see how much they're in love. With their blended families and tribe of gorgeous grandchildren rallying around them, they had planned the big day in no time. Its November so winter is rolling down the hills. It didn't stop this party though and the guests were arriving in droves.

Karen was with her girls getting prettied up by Sadie Day and hair by my talented friend, Katie Corcoran. Karen was surrounded by everyone she loves, the room was buzzing with excitement and everyone was in their dresses in time. Karen looked sensational in her delicately beaded Vista Glam wedding gown, with sparkling shoes and a bouquet of sweet-smelling ivory roses to seal the deal.

Lenny was definitely nervous, but it was pure excitement. Soon the tribe of bridesmaids were making the big walk down the aisle, closely followed by Karen, looking absolutely breath-taking. There was standing room only, everyone was loving celebrating this new blended family and soon they were Mr & Mrs. We got a little break from the seasonal rain and escaped into the gorgeous, manicured lawns and gardens; even Karen & Lenny's dog visited us for a few photos. It was just one big party and huge celebration, exactly what everyone wanted and needed. I want to wish Lenny & Karen all the love and happiness in their married life together. Thanks for sharing a slice of your forever with me. Much love, Lisa x

I wanted to Thank all the incredible wedding suppliers I got to work with:- VENUE: Statham Lodge BRIDAL HAIR: Katie Corcoran Bridal Hair Specialist, BRIDAL GOWN: Vista Glam MAKEUP ARTIST: Sadie Day MUA, FLOWERS: The Flower Room, CAKE: Gills Bespoke Cakes, PHOTOBOOTH: Dress the event Photo Booth.
TO DOWNLOAD THE IMAGES FROM THE BLOG CLICK HERE