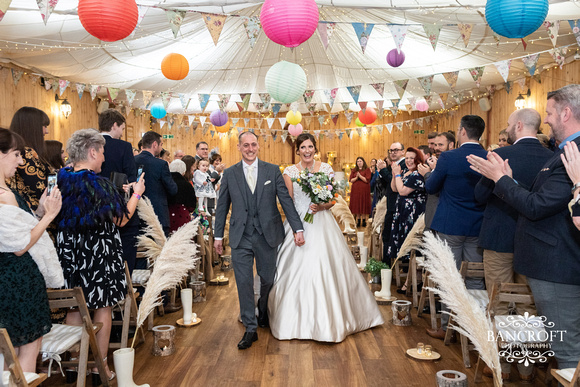 Here are the blog images from Kim & John's GlastonDerby Festival Wedding at the Wellbeing Farm. You are welcome to download the images from the gallery (see link at the bottom) however I respectfully ask that, in line with copyright restrictions, that you DO NOT crop out my logo or apply editing filters or edit the images in any way. Please feel free to share the images on social media, all I ask is that if you Like what you see, please credit/tag '@BancroftPhotography' when you post, and please leave me a little GOOGLE REVIEW, it helps other couples like you, find me.

Kim is one of my most cherished friends, we worked together for a long time and we bonded over our mutual sense of humour and our love of the legendary Dannys Kitchen. Kim is one of those people who always makes time for you, she can see right through to your soul and has a sweeter heart than Winnie the Pooh. Kim is a shiny person, she makes me laugh hard and I love her completely. Her beau John completed a perfect 9.5 on the boyfriend trials, so we were all in complete approval. Since then they made Baby Bob and he just completes the perfect picture. These two are all about the fun, all about the party, festival fabulousness and the love; However, fundamentally, kim is only there for the food.

So even though this wasn't the original wedding date, we bagged ourselves a bigger and better encore at the amazing Wellbeing Farm. Surrounded by rolling hills, llama's sheep and donkeys, the venue is a veritable buffet of fun and adventure. Perfect for our ourdoorsy adventure girl and the prince who stole her heart. It brought me so much joy to see how happy this day made John & Kim, they can face anything when they are together and Bob only makes that bond stronger.

Watching John finally getting his girl filled our hearts right up. So If you love farms, tractors, llamas, sheep called Sandra, selfie shacks and pouring your own pint, then this is the one for you. Kim, John & Baby Bob, you know how much I love you, thanks for letting us share the adventure. It was everything I dreamed of and more. You deserve all the happiness and the joy, Much Love, Lisa xx

I wanted to Thank all the incredible wedding suppliers I got to work with:- VENUE: Wellbeing Farm BRIDAL HAIR: Divalution St Helens, BRIDAL GOWN: Wed2Be MAKEUP ARTIST: Ruby Loves MUA, BAND: The Karma Club, FLOWERS: Jen & Laura, DRESS DESIGN: Elaine at Butterkins Dress Designer, SUITS: Moss Bros.

TO DOWNLOAD THE IMAGES FROM THE BLOG CLICK HERE