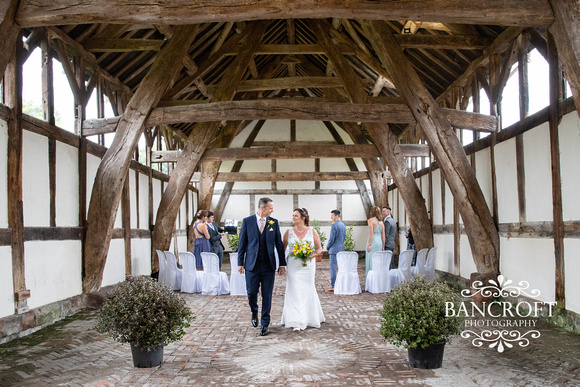 Here are the images from Victoria & Graeme's Arley Hall Wedding Blog. You are welcome to download the images from the gallery (see link at the bottom) however we respectfully ask that, in line with copyright restrictions, that you DO NOT crop out our logo or apply editing filters or edit the images in any way. Please feel free to share the images on social media, all we ask is that you please credit/tag '@BancroftPhotography' when you post.
One of my gorgeous couples recommended me to Victoria & Graeme, they had originally planned a big family & friends wedding celebration at the stunning Arley Hall. Unfortunately covid19 tried to scupper their plans but they bravely and admirably decided on an intimate ceremony in the most romantic and beautiful of settings. The Cruck Barn, built in 1472 with its open loft simply made my heart sing. The light, the colour and despite the rain, everything was perfect.
After spending so much time in lockdown and with a heavy heart, seeing my couples rearrange their wedding dates, my soul has been literally starving, my creativity malnourished and my sparkle all tarnished. I was so excited. It's always the same 'scared but excited' feeling you get when you are just about to get on a roller coaster.
The groom and his party arrived and I was positively raring to go. We grabbed some gratis umbrella's and headed for The Cruck Barn. Victoria arrived closely after and looked every inch the breathtaking bride. Following her beautiful daughters down the aisle and taking Graeme's hand. He couldn't take his eyes off his bride as she glided towards him, Victoria couldn't hide her gorgeous smile as she saw her groom. The happy couple were joined by a virtual zoom live streaming of the wedding to friends and family, and Witnessed by Victoria's daughters, their partners & Graeme's son.
The new Mr & Mrs were invited over to the Hall to have some photographs out of the rain and a little fun in the Library. Next it was time for the afterparty, we headed back to their place for a reception and party to remember. With cupcakes, confetti and live music galore, we raised a toast to the happy couple.
Thank you for bringing my soul back to life and sharing your amazing wedding day with me. I loved every minute. I want to wish you both all the love luck, good health wealth and happiness your hearts can hold. With so much love, Lisa x
TO DOWNLOAD ALL OF THE IMAGES FROM THE BLOG - CLICK HERE