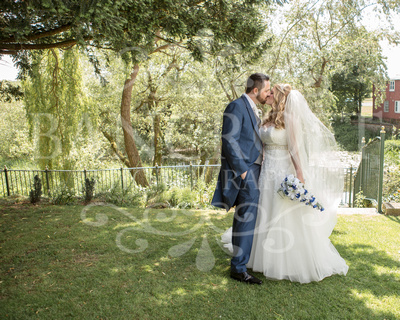 Cassielle & Kyle found me through Facebook, they asked if Id be willing to travel to Bedford to photograph their dream wedding and I agreed in a heartbeat. We'd never met face to face, only had our consultations over the telephone but sometimes you only have to speak with people to get a feel of who they are and what they love. I loved hearing about the design of their day, it was very much a relaxed fun family celebration with everyone they love by their side. Nothing was unthought of. Their wedding would be taking place at the Millhouse Hotel & Riverside Restaurant, with the Ceremony taking place in a bright and beautiful conservatory with a tented ceiling. Imagine a gorgeous country house with a wooden roundhouse, a river running along the back of the property with a gorgeous fountain in the lake at the bottom of the garden. Nestled amongst the trees was a fabulous marquee adorned with twinkle lights, royal blue paper pom poms and lanterns.
It was wonderfully romantic and very pretty, As was the whole bridal party when I met them for the first time that morning. We had lots of laughs getting to know each other and being around so many fabulous people is a real treat. Everyone was so laid back and relaxed that the day just flowed to perfection. The groom Kyle was typically nervous but his entourage of groomsmen didn't let him waiver, they kept everyone on their toes and it was great fun being around them all. True to form the weather was on point, blue skies, fluffy clouds and a warm Bedfordshire breeze, what more could you ask for.
Cassielle wore the most beautiful tulle and lace Maggie Sottero princess style wedding gown with corset back that fitted her like a glove. The bridesmaids wore luscious royal blue chiffon gowns that floated in the summer breeze. They literally floated down the aisle to a nervous but excited groom. The ceremony went without a hitch and the wedding party explored the beautiful grounds, celebrating with the happy couple drinking fruit punch and munching on delicious hors d'oeuvres.
We were welcomed into the marquee which was decorated in such a quirky, sweet and playful way. With gorgeous royal blue lanterns hanging from the tented ceiling and twinkle lights galore. A fabulous candy cart and a 4 layer ivory wedding cake with royal blue sugar flowers cascading down. It was such a treat to be seated with all the fantastic guests and we were fed like kings.
I cant tell you how much we enjoyed sharing this superb day with a couple that are truly best friends and so clearly and deeply in love with one another. The night was danced away amongst a plethora of gambling casino tables and a mighty hog roast. It was the dream day they had always hoped for and we were blessed to be such an important part of it. Thank you Kyle and Cassielle for allowing us to capture all those amazing moments from your incredible wedding day. Wishing you both all the love, luck, good health, wealth and happiness your hearts can hold.
Much Love, Lisa xx