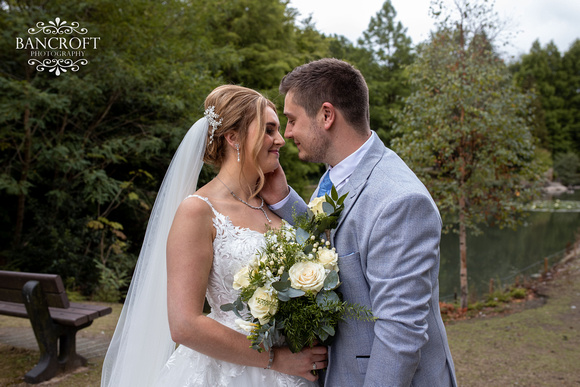 Here are the images from Oliver & Shanice's Village Hotel Wedding Blog. You are welcome to download the images from the gallery (see link at the bottom) however I respectfully ask that, in line with copyright restrictions, that you DO NOT crop out my logo or apply editing filters or edit the images in any way. Please feel free to share the images on social media, all I ask is that you please credit/tag '@BancroftPhotography' when you post, and please leave me a little GOOGLE REVIEW, it helps other couples like you, find me.
Shanice and Oliver have been on my bookings forever, like other couples who had to have their wedding postponed due to covid, these two were on their 3rd wedding date. This one was going to happen. They've been together for 10 years and were always destined to be together. Imagine my surprise when I arrived at The Village Hotel to find that her mum Karima was an school friend of mine and we used to rave together back in the day! What a reunion.
Shanice is a master party planner and organiser and the day was designed to perfection. The bridal party were relaxed and excited for what lay ahead, mainly because they had the hair and makeup dream team on hand to beautify them to perfection (big shout out to Glow & Katie Corcorran). The girls had it handled and it was going to be a beautiful day.
I popped downstairs to meet with Oliver and his groomsmen and within seconds of meeting them I knew this day would be fun. I have a radar for mischief, usually because I always start it, but these lot would give me a run for my money. If they weren't holding hands and skipping they were telling jokes and funny stories. Absolutely my kind of people. Oliver didn't have time to be nervous.
Shanice looked so stunning in her elegant Stella York gown, led by her beautiful bridesmaids, and on the arm of her proud dad. The emotion almost got to Oliver but he held it together like a trooper, we all fell apart though, it was amazing.
The fabulous day passed in a whirlwind of friends, family and real joy, especially on the dancefloor. It was everything and more. I want to wish Shanice & Oliver every happiness in their new married life together. You deserve the world. Much love, Lisa x
Thanks to all the amazing wedding suppliers I got to work with :
VENUE @villagehotelwarrington
BRIDAL GOWN @stellayork
CAKE @alisonlovestobake
SUITS @groomformal
FLOWERS @daisychainwarrington
MAKEUP @glowmakeupstudio
HAIR @KatysHairUpDos
TO DOWNLOAD THE IMAGES FROM THE BLOG CLICK HERE