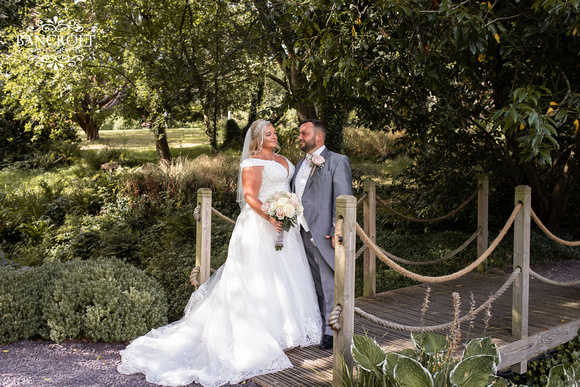 Here are the images from Sue & Marks Tyn Dwr Hall Wedding Blog. You are welcome to download the images from the gallery (see link at the bottom) however I respectfully ask that, in line with copyright restrictions, that you DO NOT crop out my logo or apply editing filters or edit the images in any way. Please feel free to share the images on social media, all I ask is that if you Like what you see, please credit/tag '@BancroftPhotography' when you post, and please leave me a little GOOGLE REVIEW, it helps other couples like you, find me.
Sue is such a gorgeous woman, one of those people who makes you feel really loved and included, regardless of who you are; she completely attracts like-minded people and her friends and family are amazing. Mark is the loveliest fella and the funniest guy ever, I don't think we stopped laughing the whole day. What was completely obvious was how much these two are head over heels for each other. With their son Harrison by their side, it was time for them to finally have their wedding day. After so many postponements, let me tell you, it was worth the wait.
With Jeanette Flynn working her MUA Magic and Carol Ellis Thompson on creative bridal hair, they had the dream team in action. A steady flurry of brushes, lashes and blush had these ladies looking totally wedding ready. Whilst the fellas had some catching up to do, they definitely gave the ladies a run for their money. Tyn Dwr hall is a stunning venue with the most impeccable and welcoming staff on hand to make sure your day is as special as you dreamed it would be. Theyre amazing and rightly deserve a mention.
The morning flew by and soon the girls were ready in their dresses. Sue looked sensational in her stunning Natalie Ann Brides Gown, a true princess gown. Mark couldn't believe his luck, watching this beautiful woman walk into his waiting arms. It really was emotional. We had the most glorious weather up in the Llangollen valleys and it was a day filled with so much love and joy, laughter-a-plenty and fun fun fun. It was a pure pleasure to share the day with Mark & Sue, and their absolutely lovely friends and families, theyre amazing. Sending so much love and happiness to you on your new married adventure. Lisa xx
I wanted to Thank all the incredible wedding suppliers I got to work with:- VENUE: Tyn Dwr Hall BRIDAL HAIR: Carol Ellis Thomson, BRIDAL GOWN: Natalie Ann Brides CAKE: By Red Roses Cakes MAKEUP ARTIST: Jeanette Flynn: FLOWERS: Poppys Florist Huyton Page Moss, VENUE DRESSING: Uplift Events Wrexham
TO DOWNLOAD THE WEDDING BLOG IMAGES CLICK HERE